Experience Counts
Our Team
Accudyne's staff continues to grow to satisfy our customer's needs. The team includes engineers, designers, technicians, and operations support staff:
Our engineers have bachelor's, master's, and/or doctoral degrees in industrial, electrical, mechanical, and/or chemical engineering and extensive experience in software engineering and systems integration. Each of Accudyne's engineers has depth of expertise in one primary field, and breadth of knowledge in other fields. This multi-disciplinary knowledge base stimulates problem analysis from multiple perspectives, elicits insight to relate these perspectives, and fosters clear & open communication. Problems are thoroughly examined from program initiation to minimize technical obstacles during equipment design, build, and deployment.
Our designers utilize the Autodesk Product Lifecycle Management toolset to manage the equipment design and development process. In addition, the design team has experience with Solidworks and CATIA which facilitates close coordination with customers using these CAD software solutions. Design 'gate' reviews for Concept, Preliminary, and Final/Critical Design levels are accomplished internally and with customers to ensure every detail is addressed prior to kicking off fabrication.
Our technicians have a broad array of skills to include precision machining, electrical system and panel build, equipment assembly, component testing, and laboratory analysis. Our machinists have more than a century of experience, collectively, and our shop equipment gives them the tools to accomplish precision CNC mill and lathe work as well as sheet metal fabrication, and welding.
Our support staff excels at technical writing and photo-documentation to produce equipment manuals, training materials, and documentation packages for all the custom equipment that Accudyne manufactures.
Ralph Cope – President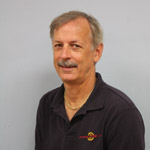 Ralph earned his bachelor's degree in Mechanical Engineering (1978) and master's degree of Mechanical and Aerospace Engineering (1979) from The University of Delaware.  In 1986, he received a Doctorate degree in Mechanical Engineering from The Ohio State University.  After teaching as an assistant professor in the Department of Mechanical Engineering for The University of Delaware for 8 years, he left the university to start his own consulting company, EPOCH.  EPOCH merged with WTC to form Accudyne Systems, Inc. in 1995.  His areas of expertise include creative problem solving, automation, biomechanics, composites, and system integration.  He has been the lead engineer for the development of over 60 machines ranging from biological pipettors to window manufacturing equipment to a variety of machines for fabricating thermoplastic and thermoset composite parts.
Mark Gruber – CFO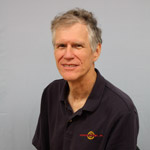 Mark received bachelor's and master's degrees in Mechanical Engineering from The University of Delaware and began his career at DuPont in 1981.  He held assignments in Kevlar® fiber process and equipment development for the manufacture of thermoplastic composite parts.  In 1997, Mark joined Accudyne Systems, Inc.  Since joining Accudyne, he has been the program manager for several composite programs related to the manufacture of equipment for the production of thermoset and thermoplastic parts.  His achievements include nine patents for processing equipment related to the manufacture of composite parts, and he has published more than 25 papers in the field of composite material processing.
Tony Johnson – Executive Director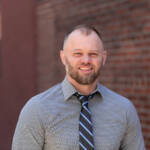 Tony has worked at Accudyne Systems for more than 20 years.  While working at Accudyne as a mechanical designer, he received his bachelor's degree in Mechanical Engineering from Drexel University.  Upon graduating, he was elevated to the role of mechanical engineer.  He has since been promoted to executive director, lending support to projects as a mechanical engineer and program manager.
Mike Case – CTO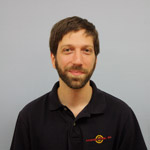 Mike received a bachelor's degree in Mechanical Engineering from Rose-Hulman Institute of Technology in 2001.  Early in his career, he designed control systems for material handling systems for several manufacturing sites across the United States. Since starting with Accudyne in 2005, he has lead electrical and software design efforts for numerous programs including factory automation, thermoplastic processing, web handling, and thermoset tape placement machines.  His current concentration is on design and software for Accudyne's cut-on- the-fly fiber placement machine technology and developing the offline programming environment for programming plies.
Stephan Zweidler – Director of Technical Sales and Marketing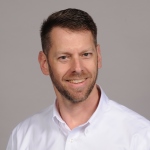 After serving in the US Air Force, Stephan completed a bachelor's degree in Industrial Engineering (BSIE) at The Pennsylvania State University in 1998.  He then began work at Chrysler Corporation working in several high-performance vehicle development programs.  While at Chrysler, he completed a master's degree in Mechanical Engineering (MSME) at The University of Michigan in 2000.  In 2009, he departed Chrysler and completed a master's degree in Business Administration (MBA) at The University of Delaware.  Stephan then worked for a top-50 defense contractor supporting multiple Department of the Army organizations, and ultimately the Defense Advanced Research Projects Agency.  Since joining Accudyne in 2015, he has served as program manager, executive director, and currently as director of technical sales and marketing.
James Tingle – Technical Director of Accudyne Europe Limited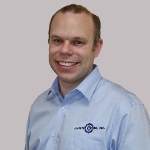 James serves as the Technical Director of Accudyne Europe Limited – a subsidiary business to Accudyne Systems, Inc. – serving clients in the European Union and beyond.  He brings a wealth of composite component manufacturing automation knowledge to the organization following his successful career spanning two large aerospace manufacturing enterprises in the United Kingdom.
Nan Gopez – Senior Controls Engineer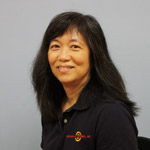 Nan received a bachelor's degree in Mechanical Engineering from the University of Pittsburgh, and Master's degree in Mechanical Engineering, with a concentration in robotics and controls, from The Pennsylvania State University.  She specializes in automation control systems for the factory automation and composites processing custom equipment markets.  Her work focuses on the implementation of online sensing systems, motion control hardware, closed loop process control systems, and high speed data acquisition, and statistical process control (SPC) monitoring systems.
Steve Funck – Senior Electrical Engineer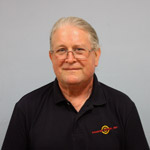 Steve received a bachelor's degree in Electrical Engineering from The University of Delaware and has more than 20 years of experience in composite process manufacturing equipment.  Over the course of his career, he has participated in a number of equipment development programs in the material processing area focusing on electrical systems engineering and materials process development.  This work included several assignments in the DuPont tow impregnation facilities.  He joined Accudyne in 1998, working on TIF and APC-2 line upgrades, redesign, and startup.
Curtis Ebersold – Senior Mechanical Engineer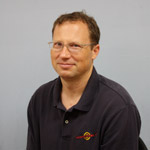 Curtis received a bachelor's degree in Mechanical Engineering from The University of Delaware in 1992 and a master's degree in Mechanical Engineering from The University of Washington in 2000.  Before joining Accudyne in 2007, he was a project engineer and process engineer for several companies.  At Accudyne, Curtis has worked in the areas of supercritical fluids, separations, and composite fabrication.  He leads the Accudyne efforts to develop novel solutions to extractions using supercritical carbon dioxide and other fluids.
Kim Ferrara – Senior Designer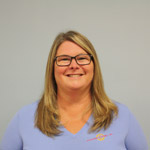 Kim received an associate's degree in Mechanical Engineering at Delaware Technical & Community College in 1993 and subsequently worked for DuPont as a mechanical technician.  While at DuPont, she tested and assembled equipment supporting research and development efforts.  She joined Accudyne in 1998 as a mechanical designer.  As a senior designer at Accudyne, Kim is involved in all aspects of concept development, design, and assembly of custom equipment.  Since working at Accudyne, she has been named as an inventor on three patents.